|
Who doesn't spend hours on the internets drooling over nursery bedding?
What?
You
don't. Why not!
It's only yummy enough to eat.
I've been looking for the perfect s
oft green toile nursery bedding
to go with
the cute curtains I got at the thrift store
... no I do not have the patience to wait and find more thrift store bedding... for a crib... in that color... in toile. It just won't happen. Aaaand I'm due in 4 weeks!
So I hunted for inspiration on the world wide web.
Here's what I found.
1. Love the color and the toile, but it's a little bland no?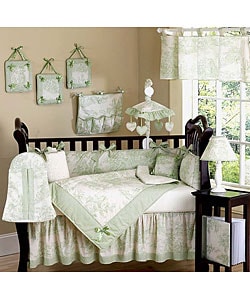 No pom-poms please.
2. Love the vertical split bumper panels
3. Great bumpers here too, and I Love the inverted box pleat with contrasting color
So, I bought the fabric I want at the thrift store... and I'm going to use these inspirations to sew my own nursery bedding... stay tuned (I am not a seamstress)!!