|
I don't really care how my crap looks behind closed doors (gasp! yes, I think Laura @
I'm an Organizing Junkie
just passed out), but

I do care how it's used. If I can't find what I'm looking for quickly and easily, if it falls on my head when I open the door, if I don't have space for my stuff, then I get irritated.

So organizing my vanity was starting to become a priority, because it's been looking like this. Oh and I had a ton of scrap lumber I needed to use :).
This was so fast and easy... I just bought a bunch of baskets at the 99c store and dug through my lumber scrap pile. Measured the height and width that would fit in my vanity, and cut my scrap MDF to fit the vanity and 5 of my baskets. Then I cut some thin craft wood into strips.
I glued the strips with Gorilla Glue (It may come as a surprise to hear that the glue is just as important a part of a carpentry joint as the screws or nails). Gorilla Glue does a great job.

Nailed the strips in place (spaced to fit my baskets specifically), and glued and nailed some 1/8" scrap hardboard to the top and bottom. Painted it up with primer and white spray paint.
I liked it so much I built a second lower one with a wide shelf on top and a slot cut out for the plumbing.
OK, so maybe this project was mostly inspired by the pile of scrap lumber...

but now my space is so much easier to use (and it looks better too - which is just a happy bonus).

Now I think I want to label the bins (medical, baby, personal, makeup, hardware ... OK maybe not hardware. But I might have to build something like this for my garage!!!)

I'm linking this post up with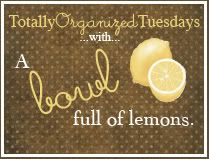 New to Pregnant with power tools? Don't miss a post and
subscribe here
...